Our mission is to extend the Kingdom of God by inviting people into an active, personal relationship with Jesus Christ, strengthening them in their faith and relationships with one another, and equipping them for service.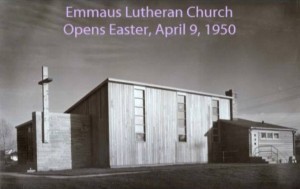 "Relocate by 48" was the goal of Rev. Kurt Lichthardt and Zion Lutheran Congregation upon outgrowing their aging, Gothic edifice at Jackson and E. Sycamore. Prime land was purchased at N. Lexington Pkwy. and Idaho Ave. W. in the rapidly developing North Como area. William Boehne had fond boyhood memories of sheep grazing on the chosen site. Zion agreed to surrender the land deed for $1.00 upon erection of a church within three years. On October 8, 1948 Zion granted a peaceful release to Rev. Lichthardt, 68 communicants and their children, effective November 1, 1948. Charter members remembered that Rev. Lichthardt named the fledgling congregation "Emmaus," focusing on Luke 24:13-35.
After worshipping at Concordia College chapel for a time, the congregation entered their new 160-seat sanctuary on Easter Sunday, April 9, 1950 to the words of Psalm 122: "I was glad when they said to me: Let us go into the house of the Lord." The new church was dubbed a "tire screecher" by the St. Paul Dispatch in a story referring to the modern design as a "bold one for the little group … flouting traditional Gothic, religious style." Rev. Lichthardt, in fact, had to "sell" the bold architecture to the District to secure the loan! A new kind of governance was initiated – all baptized/confirmed members, age 18 or older, had the right to vote and hold office.
Many had mortgaged their homes to supplement a Minnesota South District loan for construction to begin. There were various fundraisers organized by the new church. The Ladies' Guild made their elaborate smorgasbords regionally famous, and the State Fair food stand (1950-1976) with its bottomless 5-cent cup of coffee made it into the Minneapolis Tribune.
On August 19, 1956, Rev. Vernon Koeper was installed as the second pastor of Emmaus. His seven year Nigerian missionary experience and collection of native tribal masks and artifacts made him a popular public speaker. Emmaus' membership grew to over 700 souls and on December 12, 1960 the present 370-seat sanctuary was dedicated. A pipe organ was dedicated on April 23, 1961 by a local master artist, Paul Manz. The Emmaus disciples theme is apparent in two narthex appointments: a wood carving "Christ at Emmaus" by Karl Hesse and a rugged bronze-base relief sculpture "Emmaus Disciples" by Don Myhre.
Rev. Daniel Zielske was installed August 8, 1971 as the third pastor. Worshippers remembered a balloon-filled sanctuary and the emphasis on gifts of the Holy Spirit: love, peace, and joy. A successful cooperative nursery school was founded. Emmaus moved into a greater commitment to social ministry and community involvement.
Rev. Kevin Bonine was installed September 22, 1985 as Emmaus' fourth shepherd with the theme "An Eternal Gospel to Proclaim Together." Lay leaders walked with Pastor Bonine to key sanctuary positions with Scriptural words of encouragement. On October 30, 1988 we celebrated our 40th anniversary, remembering God's blessings of the past and anticipating His blessings for the future. On November 11, 1990 James Hahn was installed as Emmaus' first assistant minister.
On March 12, 1995, Rev. Roger Rekstad was installed as the fifth pastor of Emmaus. In 1998 we celebrated our 50th anniversary with the theme "Reflect! Rejoice! Renew! Reach Out!" concluding on Reformation Day, October 25. We said farewell to Jim Hahn in the summer of 1999 as he accepted a teaching call to Lakeland, Florida. Thomas Knoll was employed as a director of youth and family ministry from 2001 until 2003.
In October, 2003 Rev. Roger Rekstad retired from his work at Emmaus, and for the next 4 years Emmaus was under the care of mission pastor Rev. Dr. Thomas Trapp from Concordia University, St. Paul. The long call process came to an end when Emmaus members voted to call Pastor Tom Trapp to be the permanent Pastor of Emmaus. He accepted the call, continuing to teach at Concordia University as well, and was installed as the sixth pastor of Emmaus on November 11, 2007. The Emmaus Preschool closed after many years.
The 60th anniversary was celebrated on October 5, 2008 with a special worship service and meal afterwards with the theme "Walking the Emmaus Road with the Risen Lord," which included a presentation of a photographic history of Emmaus. In the months leading up to the anniversary great efforts were made to contact confirmands from the past to invite them to come back and join in the celebration.
Demelash Oumer Yoseph was installed as Deacon at Emmaus on August 5, 2012. He is leading an Oromo (Ethiopian) ministry, and the Oromo people gather for worship in their own language at Emmaus on Sundays.
When Pastor Tom Trapp announced that he would be retiring, the decision was made to call a seminarian to be the next pastor of Emmaus. Nickolas Kooi was placed with Emmaus during the call ceremony at Concordia Seminary, Fort Wayne in Spring 2016, and his ordination and installation service was held at Emmaus on July 17, 2016.
We enter a new and exciting phase of our ministry at Emmaus and in our surrounding community. If you are new to this Emmaus journey, we pray that it touches your life so that you might witness in the lives of others.